Wed, Dec 23, 2020 at 10:58AM
---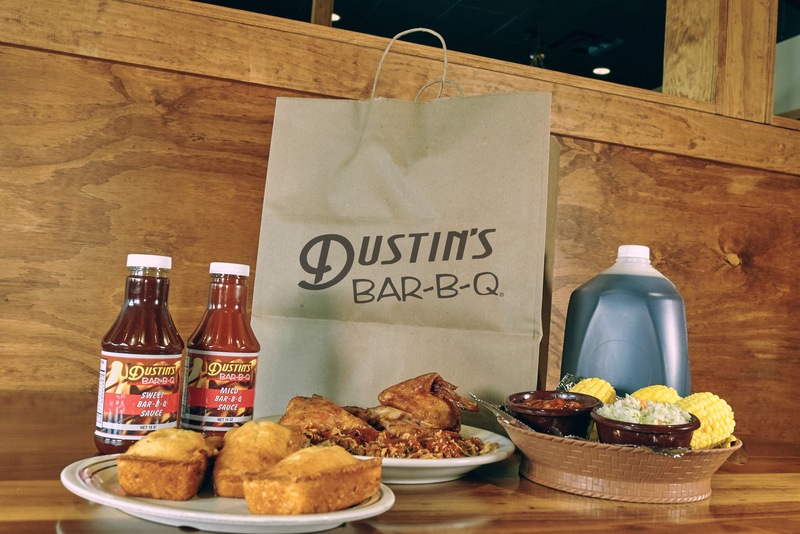 Whether you keep your fridge stocked with our signature barbecue sauce year-round or you're new to the take-home sauce party, our crowd-pleasing sauces don't just taste good with our own savory Dustin's Bar-B-Q menu items. Check out these 3 ways you can use our hot, mild or sweet take-home barbecue sauces with your own at-home recipes — because let's be honest, there's nothing like that Dustin's Bar-B-Q signature flavor!
Say Aloha to the Tropical Barbecue Bowl!
Before you say, "Pineapple and BBQ sauce don't mix!" you have to try this tropical barbecue bowl! Our sweet barbecue sauce pairs perfectly with some cilantro-lime rice, pork tenderloin and pineapple (yes, pineapple!) for a sweet meal that'll make your taste buds want to hula dance!
Italian Night Isn't Complete Without Some Barbecue Chicken Pasta!
Looking to add some spunk to Italian Night? Try adding our mild barbecue sauce to some creamy, cheesy chicken pasta to take your pasta game to a whole new level! Pro tip: Chopped bacon and a little bit of lemon juice. Thank us later.
The Barbecue Flatbread That Packs a Punch!
You deserve more than just cheese and pepperoni! Add some of our hot barbecue sauce to your next barbecue chicken flatbread to kick things up a notch. If you love a little bit of heat on the dinner table, this flatbread and Dustin's Bar-B-Q sauce combo will do just the trick!
There's no doubt that our signature barbecue sauce makes the best addition to almost any dish, so be sure to add some to whatever's cooking in your kitchen! Swing by your local Dustin's Bar-B-Q to snag some to-go bottles!