Fri, Oct 21, 2022 at 1:05PM
---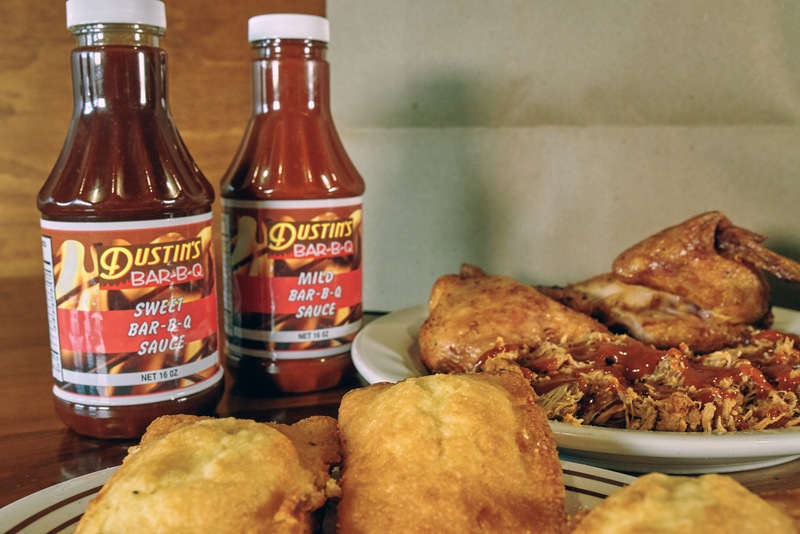 The perfect amount of smoking and grilling is a crucial step when you're preparing an incredible BBQ meal, but everybody knows that the sauce is the part that really completes the experience.
The right BBQ sauce that balances sweetness, tanginess, and even a bit of spice can complement the flavors of the meat in a way that is simply out of this world. And when paired with the right side dishes, a great BBQ entrée with delicious sauce can satisfy every craving and create a truly unforgettable eating experience.
BBQ Sauces to Enjoy at Dustin's
If you live in Florida and are a fan of classic Southern-style BBQ, you may have searched for "BBQ near me" a time or two. Hopefully, you're not too far from a Dustin's Bar-B-Q location, where the perfect BBQ meal is just an order away.
We're known for a lot of things at Dustin's, including our slow-smoked ribs, Dustin's Legendary Combos, and our jam-packed Bar-B-Q Dinner Plates, but one of the offerings we're most proud of is our wide range of BBQ sauces.
That's right — we've formulated multiple sauces to satisfy our guests' diverse tastes and complement our meats to absolute perfection.
Let's take a look at the signature sauces you can find on multiple dishes at your nearest Dustin's Bar-B-Q. And lucky for you, we're not greedy — bottles of each signature sauce are available for purchase!
Sweet
If you like your BBQ sauce on the sweeter side in order to balance the savory flavors in the meat, our Sweet BBQ sauce is the perfect choice for you.
One of our favorites on the menu is our Chargrilled Chicken Breast, a Bar-B-Q Dinner Plate offering that includes two boneless and skinless chicken breasts well seasoned and prepared with our Sweet BBQ sauce, along with two sides of your choice.
Hot
Looking for a BBQ sauce that takes a walk on the wild side? You'll be happy to hear that Dustin's has formulated a delicious sauce just for you.
You can enjoy multiple delicious dishes with our Hot BBQ sauce, but a standout for us is our Bar-B-Q Style Wings prepared with this sauce and served up with celery, carrots, and blue cheese on the side.
Mild
When it comes to Dustin's BBQ sauce, mild does not mean boring in the slightest. Within our Mild BBQ sauce, you'll taste hints of sweetness, tanginess, and spice that are perfectly balanced. This sauce complements multiple dishes, including our slow-smoked ribs and multiple items on our Bar-B-Q Dinner Plates.
Pulled Pork Sauce
Pulled pork is so special to us at Dustin's that it gets a BBQ sauce all its own. Our Pulled Pork BBQ sauce features a unique smoky flavor that enhances the meat in a major way, whether you enjoy it in a sandwich or on its own with some sides.