Fri, Jan 29, 2021 at 2:26PM
---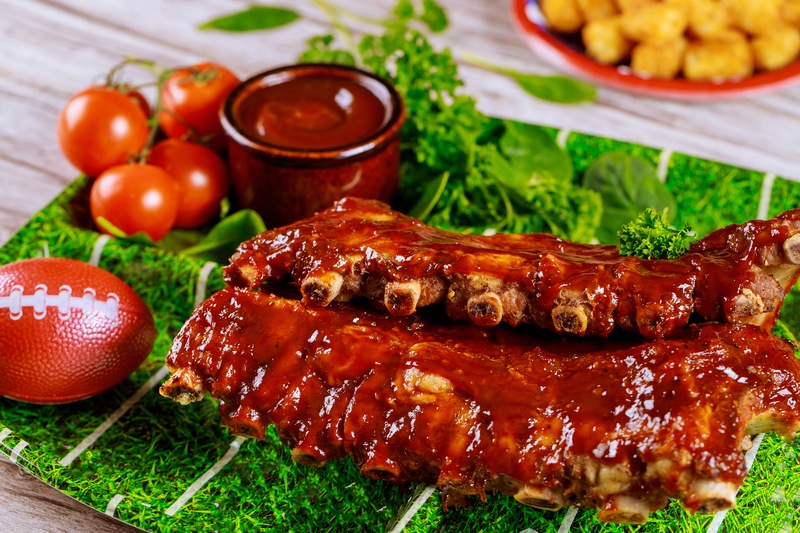 The Superbowl is right around the corner, and it's no secret that football and barbecue is a match made in heaven! Whatever your plans are for gameday, Dustin's Bar-B-Q has you covered with the best bbq in Orlando and beyond. From wings to pulled pork sandwiches, from catering to take-out to dining in before the game, check out these 5 meals that will score serious touchdowns for your tastebuds – no matter who you're cheering for on February 7th!
Lay Your Gloves on This: Baby Back Ribs
Decked out with fall-off-the-bone flavor, our baby back ribs never disappoint! These slow-smoked must-haves are so good you'll probably need to use two hands. Try our takeout by the pound option for feeding the crew or feeding your late-night munchies.
Don't Be Chicken: Fried Chicken Strips
For the easy grab-and-enjoy option, our fried chicken strips will have you drooling! Make it your own with one of our signature sauces or pair it with garlic bread and two of our delectable sides for a happy stomach to go with your happy football-loving heart.
The Crowd-Pleaser: The Ultimate Bar-B-Q Burger
There's no time to stress about grilling – it's gameday! But don't worry we've got you covered with our crowd-pleasing burger. This ultimate bar-b-q burger is layered with bacon, cheddar cheese, pulled pork, lettuce, tomato, onion and an onion ring — yeah, an onion ring! Perfected with sweet sauce and cooked just how you like it, are your mouths watering yet?
For When Things Get Heated: Bar-B-Q Style Wings
Available by 10, 20 or 50 counts, our bar-b-q style wings are easy to grab and easy to enjoy! Try them out in one of our surprisingly delicious sauces or dry rubs to take things up a notch. Available in Sweet, Mild, Hot, Cajun Dry Rub and Buffalo, these wings are sure to boost your mood even if you're team isn't looking too good!
Party on the Sidelines: A Combo of Our Signature Sides
Can't decide on just one of our mouth-watering sides? We get it! Opt for them all if you want! Combine our bar-b-q beans with our garlic bread and french fries, or treat your tastebuds to some corn-on-the-cob partnered with our mac-and-cheese and fried okra. Whether you're feeding an entire football team or just love having options of your own, our signatures are southern comfort goodness!
Whether you're rooting for the Tampa Bay Buccaneers or the Kansas City Chiefs, you just love football or you just love food, one of our six locations will be happy to feed your cravings! Head to your local Dustin's and discover the meal that'll have every kind of fan in your house cheering!