Fri, Oct 21, 2022 at 1:05PM
---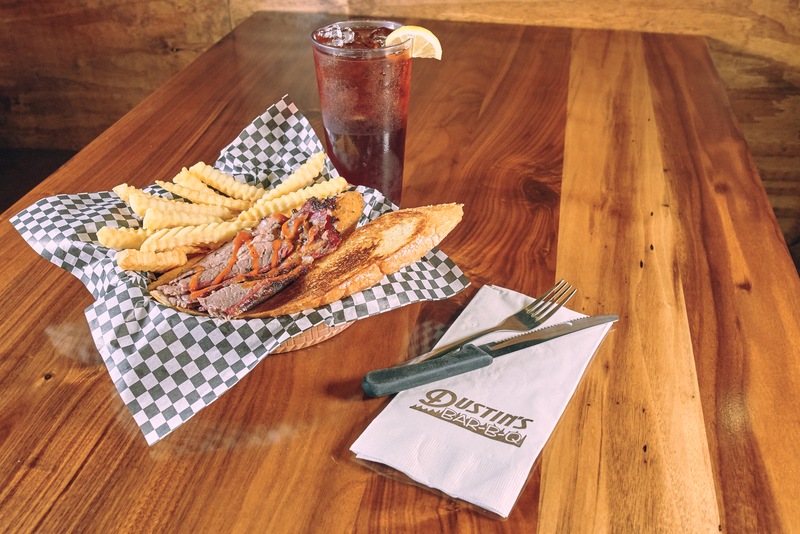 Picture this: It's lunchtime, your belly is rumbling, and you're looking for something delicious to satisfy your hunger. If you know that some great BBQ sounds good but are not sure where to find it, you might type in "barbecue restaurant near me" on your search engine of choice.
If you're lucky, you'll be close by a Dustin's Bar-B-Q location, where we are ready to serve you up some classic Southern BBQ. And you're in luck when you visit Dustin's at lunchtime because our lunch specials are something to write home about. Lunch is served at Dustin's between 11 a.m. and 4 p.m. daily.
No More Searching for the Right "Barbecue Restaurant Near Me" — Stick with Dustin's!
Our famous BBQ entrees and sides speak for themselves, but here are a few specific reasons you should choose Dustin's next time you're hankering for some Southern goodness at lunchtime.
A Huge Variety of BBQ Meats Prepared to Perfection
When most people go out to eat, having a variety of menu items to choose from is a priority. We've got you covered on that front with a long list of lunch specials that feature all the meats you could imagine, including baby back ribs, chicken breast, Bar-B-Q Pork served multiple ways, and fried shrimp — among many others.
No matter what you choose from our extensive lunch menu, you're guaranteed to be satisfied. And our choice of sides offers an even greater amount of variety to enjoy.
A Hearty Meal Complete with Sides
Lunch specials at Dustin's automatically come with toasted garlic bread and coleslaw on the side — two classic BBQ sides that complement our perfectly smoked and prepared meats. However, the customization doesn't stop there!
In addition to garlic bread and coleslaw, you can choose an additional side of your choice to round out your meal. At Dustin's, this means you have multiple options to choose from, including Bar-B-Q Beans, corn on the cob, macaroni salad, and many more.
Great Prices for Great Food
You'll never have to worry about your delicious and memorable lunch at Dustin's breaking the bank. In fact, our lunch specials come at a variety of affordable price points, depending on the type of meat. We're proud to say that you won't pay more than $15 for a delicious and satisfying lunch at Dustin's Bar-B-Q.
The Ideal Luncheon Catering Option
Need catering for a luncheon or other midday event that everyone is sure to enjoy? You can't go wrong with our luncheon catering. Your guests will enjoy all the same things that you enjoy about Dustin's lunch specials, and you'll enjoy the reasonable pricing (and all the compliments you get on the incredible food!).