Fri, Oct 29, 2021 at 10:25AM
---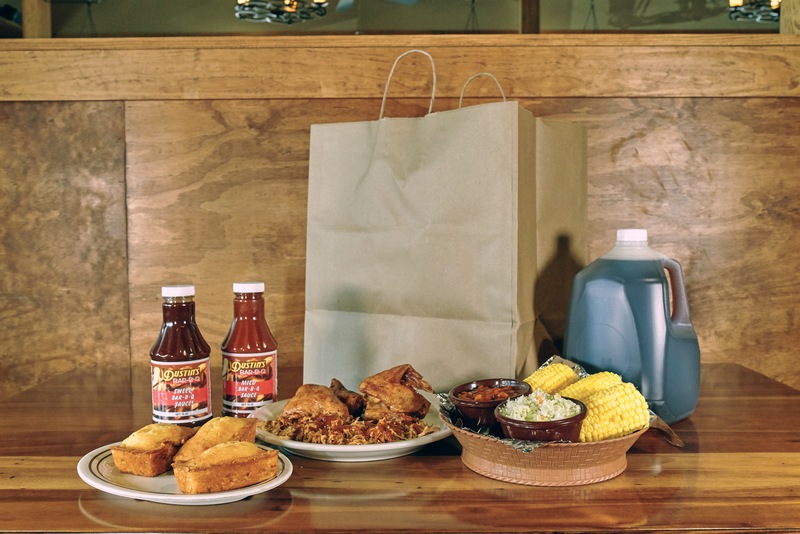 While dining in at your local Dustin's is an exceptional Tampa BBQ restaurant experience, many like to enjoy Dustin's on-the-go from time to time. That's why we offer a multitude of ways to get your favorite meals in yours and your loved ones' bellies! Read on for 3 ways you can enjoy local Tampa barbecue no matter where you're headed.
Enjoy Safe & Convenient Curbside Service
We are dedicated to providing every one of our guests the exceptional service of their choice. For many guests, that looks like easy, safe and convenient curbside service. For your safety and convenience, you can enjoy the benefits of your meal brought straight to your car. Just order ahead and we will bring it right out when you arrive.
Make Any Occasion Special With Catering
There's just something special about Southern Barbeque that brings everyone together and leads to some seriously delicious memories with the ones you love! No matter how big or small the occasion, we've got you covered with the delicious flavors you crave with a variety of options for everyone on the list. Plus, all of our entrees, sides and appetizers are available for catering via on-site, pick-up and delivery options, so you can relax on your big day. We'll even work with you to customize a catered menu everyone is sure to love! From family gatherings to birthday parties and beyond, we believe no event is complete without the exciting flavor of Dustin's BBQ.
Bring It Home With Fast & Easy Take Out
We make it easy to pick up and bring home the delicious dishes of your local Dustin's. That's why so many guests enjoy the fast and easy process of our take-out services. Order ahead online or by giving your local Dustin's a call, and we will have your order hot and ready when you arrive.
Nothing should stop you from the mouthwatering Tampa barbecue of your choice. And that is exactly why we are committed to your safety and convenience through every ordering avenue. We get it. Sometimes you can't dine in with us, but we're still here to serve you in as many ways as possible. Next time you're craving delicious dishes from your local Tampa BBQ restaurant, order ahead and enjoy the benefits of one of our on-the-go services!