Fri, Apr 01, 2022 at 9:50AM
---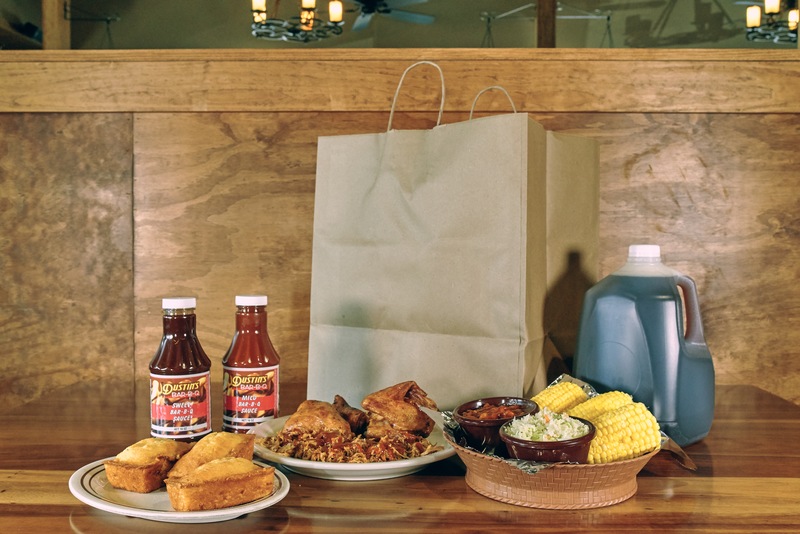 If you want to save yourself time during the busy work week or if putting together delicious and inventive lunches or dinners is just too much for your hectic schedule, one of your best options is to let someone else do the heavy lifting for you. What you need is the "barbecue restaurant near me" that has the prep on lockdown.
Dustin's Bar-B-Q has you covered with takeout by the pound. Get all the mouthwatering meats and savory sides your family loves in bulk, so all you have to do is portion it into Bento boxes for lunch or heat it up for a fast and fabulous dinner.
What can you expect when you order takeout by the pound?
Magnificent Meat Selection
Putting together a quick and easy meal starts with an outstanding selection of expertly cooked meats by the pound, including:
Sliced pork
Pulled pork
Sliced beef
Beef brisket
Sliced turkey
Whole or half Bar-B-Q chicken
Louis style ribs
Baby back ribs
If you're feeding a big bunch, you can get a few pounds of a family favorite or mix it up with a variety of meats to please different palates or ensure new options all week long. Don't forget to order a bottle or three of Dustin's Bar-B-Q Sauce to make you have plenty of flavor for dousing and dipping your meat selection.
Ordering by the pound is not only great for food prep purposes, but it's also ideal for events where you'll need to feed a large group. Dustin's even offers BBQ catering to take more of the load off your shoulders with prepared meals that are ready to serve.
Scrumptious Sides
Ordering meat by the pound is a little different than ordering, say, Bar-B-Q beans, coleslaw, or potato salad by the pound and figuring out how many people it will feed.
Although sides are listed on this "by the pound" section of the online ordering menu, you'll find that they're available in pint, quart, and gallon sizes to help you determine how much you'll need for the week or for a single large gathering.
A Versatile Family Feast
Technically, the family feast isn't part of the menu where you order by the pound, but if everyone in your group has different tastes when it comes to their BBQ favorites, you can't go wrong with a feast meant for four that includes pork, beef, chicken, and ribs — as well as garlic bread, Bar-B-Q beans, coleslaw, and corn on the cob, plus four drinks.
With a little bit of everything, everyone will have something to love, and maybe some leftovers for lunch the next day.
Consider BBQ Catering
Whether you're planning a birthday or anniversary party, you've got a massive family reunion coming up, or you're hosting Superbowl Sunday, you're going to need enough food to satisfy a hungry crowd. Dustin's is the place to go, with options for meat by the pound, or alternately, catering services that make your life incredibly easy.
Don't spend your day slaving over a hot grill. Instead, sit back, relax, and enjoy the company of family and friends while Dustin's manages the meal on your behalf.