Mon, Dec 07, 2020 at 5:06PM
---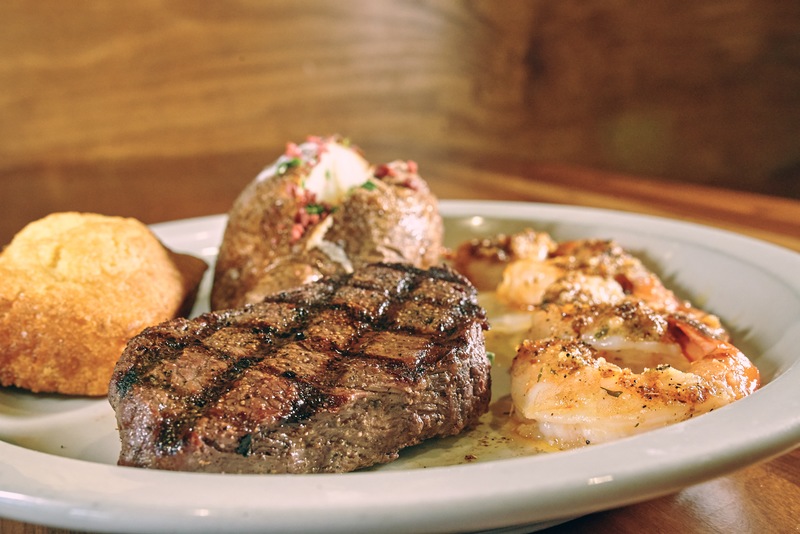 You never need a reason to enjoy a plate of hot, fresh shrimp - but here's one anyway! In honor of National Fried Shrimp Day on Dec. 21, see why we love this seafood staple and all types of shrimp here at Dustin's. Just keep reading to dig in.
The best of Sunshine State bar-b-q
Every corner of the bar-b-q world offers something unique - and here in the Southeast, from South Carolina to the Sunshine State, bar-b-q shrimp is our proud addition to the culinary canon. This seafood go-to is a delicious way to embrace local cuisine.
A flavorful friend...
Can't choose between surf and turf? With our Steak & Shrimp Combo, you can enjoy Fried or Cajun Shrimp alongside juicy, tender Dustin's Steak! Or savor some Fried Shrimp alongside our Baby Back Ribs as part of a Dustin's Legendary Combo - wherever you find it, our shrimp is sure to please as a protein-packed, crispy complement that makes every meal even better.
... or standalone seafood star
Of course, our Shrimp can effortlessly stand on its own, too! When you're craving a serious seafood feast, enjoy a plate of our Fried pr Cajun Shrimp served up with toasted garlic bread and two delicious sides to round out your meal.
Fun to share (or not)
As is the case with so many of our favorite bar-b-q staples, Dustin's Shrimp is easy to snack on and share. Delightfully snack-worthy, it's a true bar-b-q crowd-pleaser, a welcome addition to any picnic spread or family dinner. But when serious seafood cravings kick in, be warned - sharing might not come so naturally!
When you're craving fresh, fried or Cajun shrimp and your favorite bar-b-q sides, we have you covered! Swing by your local Dustin's and enjoy a plate soon.