Thu, Jul 30, 2020 at 6:00PM
---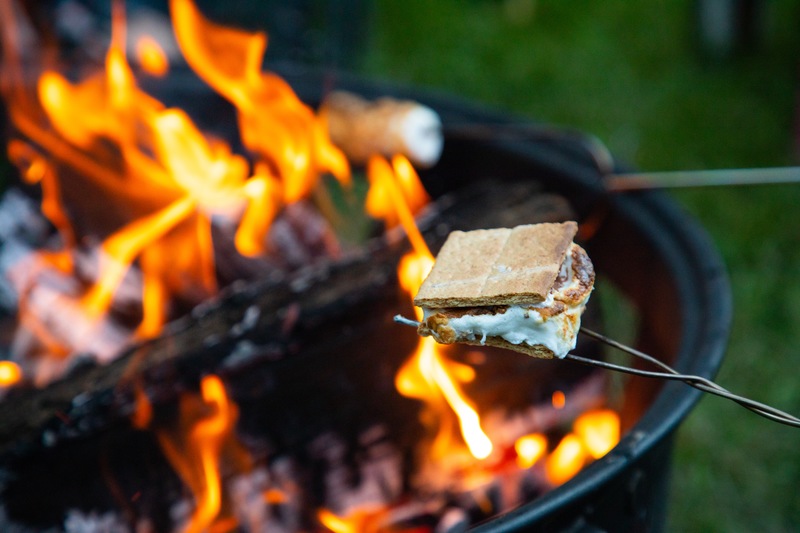 Summer is the season of long, lazy days and easygoing family nights—the best of which are spent around a crackling campfire! This quintessential summer activity is easy to enjoy from the comfort of your own backyard. Just read on for a few of our top tips for fireside fun and flavor.
Practice fire smarts and safety
The key to any great campfire is a safe, cozy setup! Use a backyard fire pit, surround it with comfy seating and be sure to practice fire safety (such as keeping children and pets away from the flames, and avoiding reaching directly over the fire). You can also string up beautiful backyard lights for a relaxing ambiance, and play your favorite tunes through an outdoor speaker.
Fuel the fun with classic campfire eats
It wouldn't be a classic campfire without your favorite fireside eats! You can bring home Dustin's dishes like our Bar-B-Q Dinner Plates (our Slow-Smoked Beef Brisket is sure to pair perfectly with the toasty aroma of the fire), Wings, crowd-pleasing Fried Chicken Strips and creamy Mac & Cheese to complete the experience.
Plus, with Melbourne, Orlando, Edgewater, DeLand, Port Orange and Ormond Beach restaurants, there's a Dustin's in your neighborhood conveniently located and ready to provide the flavors you need for your campfire cravings! You can also ask about catering options if you have a large family to feed as you plan your next backyard bonfire.
Add some sweets
Don't forget dessert! There's one simple, sweet treat that completes the campfire menu—and that is, of course, s'mores. Half the fun is in toasting your gooey marshmallow to perfection! (The other half, of course, is trying to dig in without making a total melted mess. It's okay. That's all part of the experience!)
Tell scary stories
For older kids and grown-ups, scary stories and a crackling campfire go hand in hand. Bring your best to the table for a chance to win a family prize, or take turns adding upon each family member's piece of the story for a truly handcrafted finale.
Bring out the old guitar
Another classic campfire activity is, of course, playing some acoustic tunes! Bring out the old guitar and strum some fun family songs to cap off a relaxing evening of laughs and good food.
We hope these tips help you embrace the spirit of summer with a family campfire. Be sure to bring home your Dustin's Bar-B-Q favorites to fuel the toasty fun.