Wed, Dec 23, 2020 at 10:58AM
---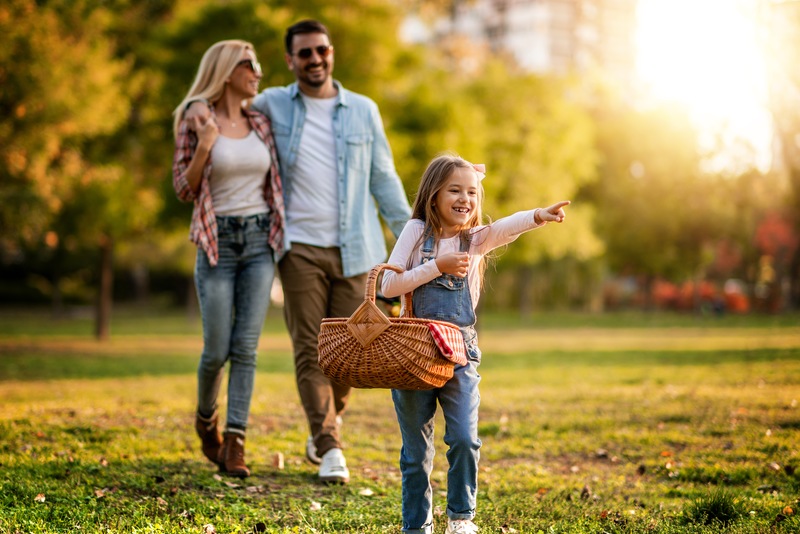 Just because it's a little cooler outside this time of year doesn't mean it can't be picnic season — especially with some warm Florida BBQ in your picnic basket! Unlike some northern states, Florida winters provide beautiful weather for enjoying a meal outdoors, and Dustin's Bar-B-Q is the perfect partner-in-crime. If you're looking for a place to enjoy some of our cajun dry rub wings or a grilled chicken breast with sweet sauce, we've curated a list of 6 of the perfect places — right by one of our locations — to enjoy a picnic, accompanied by the best barbecue in FL!
Orlando: Harry P. Leu Gardens
Open daily, this breathtaking 50-acre botanical oasis is just minutes from Downtown Orlando and is only 25 minutes from our Orlando location. Find a bench or lay out a blanket and enjoy one of our Dustin's Burgers with a side of BBQ Beans — all while being surrounded by azaleas, citrus, cacti, magnolias and more!
Ormond Beach: The Casements
Dubbed "The Jewel of Ormond Beach," this riverside mansion and gardens estate has been beautifully restored to welcome visitors Monday through Saturday. After swinging by our Ormond Beach location, find a cozy spot on the grounds' Rockefeller Gardens to enjoy the views of historic sculptures, the sounds of the peaceful wildlife, and of course, the flavors of your favorite smoked sliced turkey and fried okra!
Edgewater: Riverside Park
Located along the Indian River, this 8-acre park is the perfect place to picnic because of its variety of amenities, like open spaces, outdoor gazebos and fishing docks. Bring the kids along, too, and let them safely have a blast on the playground! Just a quick 9-minute drive from our Edgewater location, Riverside Park is the best complement to our delicious Jumbo Sliced Bar-B-Q Beef Sandwich or Cajun Garlic Shrimp — you might even see some manatees!
Port Orange: Spruce Creek Park
Immerse yourself in nature at this 23-acre park with a 536-foot boardwalk, a 15-foot observation tower, and more than 3 miles of nature trails. The beautiful park is only 10 minutes from our Port Orange location and is the perfect spot for a nature-filled afternoon picnic. Relax under mossed trees along the picturesque Spruce Creek with a chargrilled chicken sandwich and sweet tea in hand!
Melbourne: Melbourne Beach
There's nothing better than a beach day! So why not enjoy some barbecue while sinking your toes in the sand? After picking up lunch at our Melbourne location, head to Melbourne Beach and cozy up on that oversized beach blanket with your juicy New York Strip — all while those crystal clear waves crash in the background!
Deland: Hontoon Island State Park
Looking for a unique picnic excursion? Try out Hontoon Island State Park! Just 15 minutes from our Deland location, this nature-filled island is accessible by a free ferry ride and is the perfect spot to enjoy our signature Baby Back Ribs with Bar-B-Q Chicken! Make a day of it with a bike ride or nature walk after you've filled your stomachs with a delicious meal from Dustin's!
Enjoy all of Florida's beautiful outdoor attractions with some Dustin's Bar-B-Q in your picnic basket — there's nothing like it! Call us today or swing by a location near you and let us make sure you're well-fed for your next adventure!